As someone who does not eat animal products (vegan, plant based, herbivore...whatever you prefer) the most common question I get when it comes to nutrition is "But where do you get your protein?" This post is for omnivores and herbivores alike...I'm hoping to help those interested in cutting animal products out of their diet find plant based protein sources and also help my plant powered friends have eye-opening conversations when they get asked,"WHERE DO YOU GET YOUR PROTEIN?"
When I am asked about protein (and I feel like I get asked A LOT...by friends / family / acquaintances / clerks at the market / waiters ) I avoid the urge to respond with sarcastic comments such as, "Where do you get your cholesterol" or "From eating the people who ask me that" because if they are sincerely interested not only have I not answered their question, but I've now turned them away from veganism by being a jerk! Instead I respond compassionately, my part of the conversation usually goes something like this "I used to think that protein only came from animal products, but did you know that foods like broccoli, beans, quinoa, nuts and nut butters have a similar amount of protein as meat? Not only are they great sources of protein but they are also lower in saturated fat and cholesterol and higher in fiber, and they cost significantly less." By responding kindly I usually have powerful conversations with people regarding the disgraceful treatment of farmed animals, the environmental effects of meat eating, and the health benefits of following a plant based diet.
If you are interested in high protein, plant based meal ideas feast your eyes on these mouth watering recipes!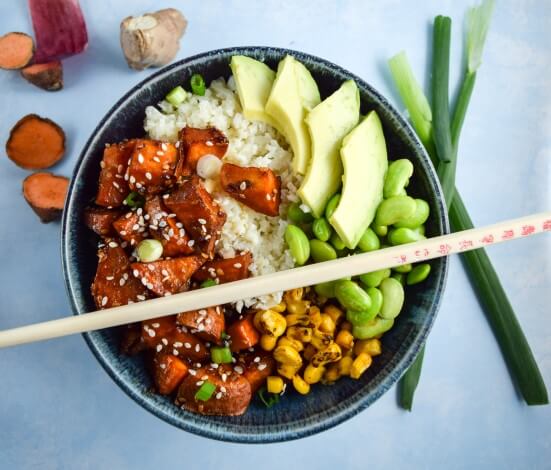 Butternut Squash Black Bean Enchiladas - Minimalist Baker
Below is an amazing chart created by Vega One (the most detailed I've seen) that identifies a large array of plant based proteins. I love Vega One's All in One Nutritional powder in
Natural Flavor!
You can view the chart
HERE
if you're having difficulty reading the small print